Gaps in Teachers' Training
Much Neglected Area Needs Real Attention
Three overarching frames can help us understand the direction and vision of the National Education Policy1 (NEP), 2020. First, NEP's disconnect from the structural and process ground realities of school education, teacher education and higher education. policy neither refers to the concerns and challenges that plague India's education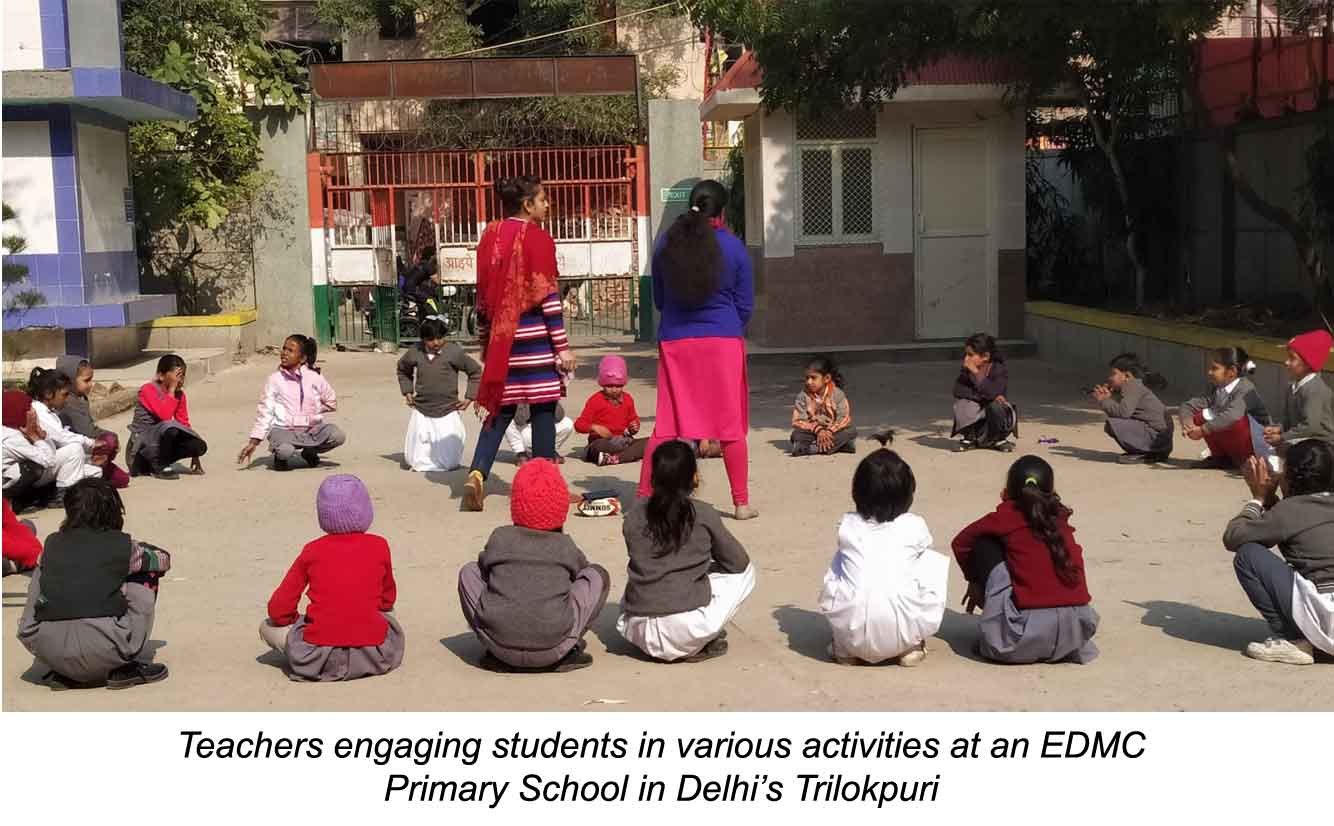 system, nor does it attempt to build on what has been achieved so far. Second, NEP 2020 maintains a continuity with the trajectory of neoliberal measures put in place over the last three decades by offering concrete pathways to take the agenda forward. Third, NEP proposes well-thought out structural openings to take the agenda of privatising education, homogenising and standardising curriculum and pedagogy along ideological positions, and centralising systems of governance and regulation.
Using these frames, this short essay examines some aspects of school teachers and their development in the context of educational reforms and the proposals in NEP 2020.
NEP's Disconnect from Ground Realities
The most recent estimates noted in the draft national education policy,2 show that "the country faces over 1 million teacher vacancies - a large proportion of them in rural areas - leading to PTRs (pupil-teacher ratios) that are even larger than 60:1 in certain areas." The mandated pupil-student ratio is 30:1 as per Right to Education (RtE) norms. Contractual teachers make up 38 percent of the current teacher work force in India. About 34 percent of the teachers in Delhi government schools alone are contractual teachers.
It took a Supreme Court appointed high powered Commission - the Justice Verma Commission (JVC) on Teacher Education to unveil the reality of teachers and teacher education.3 It revealed that the bulk of teachers are trained and qualified through the sub-standard private system of 'teaching shops' that fail to address the pedagogic needs of diverse classrooms. It also shed light on the small but significant number of teachers, who are poorly prepared through pre-service public institutions that are severed from centres of higher learning and use largely outdated curricula and pedagogy. The Commission noted that the number of private teacher education institutions (TEIs) increased manifold in the years preceding the RtE; and that the National Council for Teacher Education (NCTE) failed to control the proliferation of sub-standard TEIs, leading to rampant privatisation and commercialisation. By the 2010s, while close to 80 percent of children studied in state schools,4 their teachers came from a teacher education system with over 90 percent of TEIs in private hands.5
The massive increase in the number of private TEIs over the years created an imbalance in favour of urban areas in the spread of teacher preparation facilities. This adversely affected access to teacher education among marginalised groups, especially in rural and relatively remote areas. Many districts that have a "lower intake ratio in teacher education institutes in most of the states are those having SC and ST populations of more than 25 percent. States having surplus teachers also have lower intake ratios in districts with SC and ST populations of over 25 percent."6
Despite intervention by the Supreme Court, state investment in teacher education continues to be low and it remains isolated from the higher education system. While the share of funds for school education declined from 1.3 percent in 2009-10 to 1.1 percent in 2018-19, states with large numbers of professionally unqualified teachers (Uttar Pradesh, Chhattisgarh, Bihar and West Bengal) continue to spend less than 1 percent of their school education budgets on teacher training.7
The massive increase in the number of private teacher education institutions over the years created an imbalance in favour of urban areas in the spread of teacher preparation facilities.
Inadequate expansion of the government school teacher pool, especially in the most educationally challenged states, limited state investment in education and lack of professional support to teachers have led to a de facto public policy that undermined the potential role of teachers in achieving equitable quality education. Compounding the problem are divesting teachers of agency, narrowing curriculum to a disconnected set of learning outcomes and reducing teaching to lower order cognitive thinking and skills.
The neoliberal policy narrative undermined knowledge, over-emphasised the development of skills and constructed notions of educational quality as synonymous with learning outcomes. This created the logic of marginalising the teacher, undermining her agency and the need for epistemic engagement. Teachers were trained to implement minimalist agendas built around 'practical knowledge' that is positioned as key to ensure student learning.
NEP 2020 does not address the chronic problem of teacher shortage. It also does not commit itself to discontinuing the practice of hiring contract teachers. In glossing over the acute problem of teacher provisioning, the NEP shows complete lack of state commitment to meet the challenge of equitable quality education. Instead, NEP suggests that teachers be recruited to a school complex and that the sharing of teachers across schools would aim towards "greater resource efficiency…coordination, leadership, governance, and management of schools in the (school) cluster."
NEP's silence on the critical recommendations made around the major gaps in the teacher education sector, by the JVC and hence the Supreme Court, is inexplicable.
NEP's Continuity with Neoliberal Policies
With a change in the political regime, more recent neoliberal policies have widened the disconnect between teaching-learning processes and the educational concerns of equity and social justice. Two critical amendments to the RtE Act over the last couple of years led to the dilution of the provisions that ensured equitable education to all. First, the scrapping of the no-detention provision has effectively put the onus of learning on the child. Second, the focus on learning outcomes as the central objective of RtE induced state schools to create segregated and unequal learning environments such as, separate English medium sections and streaming children into ability sections in early grades, minimising their opportunities to learn at their pace.
The inclusion of learning outcomes in the RtE Act has reduced the 'right to education' to a mere 'right to learning.' By maintaining a deafening silence on the RtE Act, NEP 2020 effectively brings down the curtain on the right to education. NEP shifts the focus from the 'child's right to education' and the 'duty of the state' to provide equitable quality education; to the 'duty of the child to learn'.
While the bulk of pre-service teacher education continues to happen in private 'teaching shops,' seven years after the JVC, most in-service training of teachers across several states is also being outsourced to private 'edupreneurs,' with a push for digitalising teacher development. An example of this is the creation of a Digital Infrastructure for Knowledge Sharing (DIKSHA). This, and other platforms are projected in NEP 2020 as unique initiatives which leverage existing highly scalable and flexible digital infrastructures, with teachers at the centre.
The capture of the school teacher by private interests has led to the effective subversion of the commitment to the Constitution-led policy frame of equity and social justice. Even as the Supreme Court stepped in to disrupt the subversion of this agenda, an institutionalised nexus between an entrenched private sector in teacher education and a compromised state system continues to shape teacher education policy. This has become evident during the pandemic as sudden school closure was used by governments and private players to lobby for digital learning across state and private schools.8
Teachers During the Pandemic and State Response
An ongoing research on the impact of school closures reveals that the teacher has been thrown further into the margins.9 She has virtually no say in how schools should respond to the educational needs of millions of children during the pandemic. According to some government teachers, notifications from state officials with all their ambiguities are considered sacrosanct. Neither the teachers nor the school administration can question these or even enquire about them. Any attempt to do so could lead to a show cause notice from the concerned authorities.
State schools are sent YouTube video links and worksheets directly from the state departments of education. Teachers reveal that their role is merely that of a conduit whose duty it is to forward these links and worksheets to their students via WhatsApp groups; and maintain records of students who access the videos and return their duly completed worksheets.
Worksheets are being outsourced to several non-state actors such as, Career Launcher, Teach for India and Tech Mahindra. These organisations have not only taken over the task of preparing worksheets across grades, they are also monitoring schooling processes and practices. Mentor teachers in Delhi government schools shared that during the pandemic even their role has been reduced to being 'record keepers' and 'conduits' for passing information to non-state actors such as STIR who work with full government support. Teachers are being asked to collate information pertaining to student scholarships, student attendance, utilisation of money allocated etc. They are not being engaged in discussions on curriculum and pedagogic approaches – supposedly their primary task.
In some of the state schools, teachers have been specifically asked to not take classes, so that uniformity in the digital teaching-learning process is maintained. Teachers are not allowed to reach out to their students individually as governments are focused on promoting and projecting the 'efficiency of digital learning.'
During the pandemic, invoking the Epidemic Diseases Act, 1897 has led the bureaucracy to exercise unlimited authority over teachers. All work allotted to teachers is prefaced with 'As per the Epidemic Diseases Act.' As a result, several teachers have been put on duties of distributing rations, as part of relief work during the lockdown, conducting COVID surveys, and keeping records at dispensaries and isolation wards of COVID patients. The bulk of teachers sent for COVID duties are from primary classes as they are expected to work via WhatsApp while senior teachers are engaged with live sessions. There is no voice or redressal mechanism for teachers.
With extreme centralisation of power teachers feel like 'puppets' in the hands of the government and their administrators. Some Kendriya Vidyalaya teachers have been coerced to travel to their workplaces from their hometowns, despite hometowns being in containment zones, with threats of loss of jobs and salaries. While several teachers and non-teaching school staff have not received salaries over the past four-five months, most contractual teachers across several states have lost their jobs.
Teachers in several private schools are facing new forms of power and control, given the new set of CBSE guidelines issued during the pandemic. Teachers are expected to prepare online teaching plans, collate resources and get them approved by school authorities before taking them to class. Any official from CBSE or school authorities can enter these online classes at any time to monitor the teaching-learning process.
The most recent estimates noted in the draft national education policy show that the country faces over 1 million teacher vacancies - a large proportion of them in rural areas.
Digital learning platforms, started as an emergency measure to stay connected with school children during the health crisis, are being used to impose uniform curricular and pedagogic approaches. This effectively strips the school teacher of all intellectual agency, reducing her to a mere 'worker'.
Several teachers even fear that their role is being made redundant by the manner in which digital learning is being integrated into the school system. This could be a precursor to the road map NEP 2020 has laid towards this. Laying emphasis on the role of technology in 'improving educational process and outcomes,' NEP proposes a dedicated unit to develop a 'digital infrastructure, digital content and capacity building.'
Homogenising Curriculum, Homogenising Identities via Teacher Education
India's pre-service and in-service education of school teachers is almost entirely in the hands of private players. The NEP 2020 offers little to change this reality. Instead, it reconfigures the role of the state in line with the logic of the market - as a 'regulator' rather than 'service provider.'
NEP 2020 proposes to make the education of teachers uniform at all levels via a single curriculum design model. In promoting the idea of teacher preparation as a homogenous standardised activity, the policy undermines the needs and challenges of social and linguistic diversity across India's states. It also discounts the needs specific to different levels of education and undercuts the role of academia in developing teacher education curricula and design.
NEP's focus on embedding education in the 'Indian ethos' with reference to the heritage of 'ancient India' alone, goes against the secular mandate of India's Constitution. The regulation and governance of education via a common curricular and pedagogic approach for school and teacher education creates a structural base for homogenising identities and undermining India's diversity.
By recommending the provisioning of "suitably adapted 1-year B.Ed. programmes," "special shorter local teacher education programmes" "at BITEs, DIETs, or at school complexes," "shorter post-B.Ed. certification courses" at multidisciplinary colleges and universities, NEP 2020 contradicts its emphasis on a 4-year integrated degree as the minimum qualification for teaching. It suggests this as a measure to prepare teachers for children of socio-economically disadvantaged groups (SEDGs).
Via its proposal of special education zones for SEDGs, and multiple methods of learning – formal and informal, the NEP may well have laid the foundation for a future segregated system of school and teacher education in India - of sub-standard (and low-fee paying) private and government schools for the poor and most vulnerable, largely taught by teachers from sub-standard private TEIs, that the Supreme Court had issued unequivocal orders to regulate.
Even though NEP 2020 proposes to 're-establish teachers, at all levels, as the most respected and essential members of our society,' 'to empower teachers and help them to do their job effectively,' and to foster a 'culture of empowerment and autonomy to innovate,' the measures it recommends belies the intent. Teacher narratives gathered during the pandemic indicate how the teacher has been reduced to a mere worker, expected to follow official orders; and who has been made accountable to a range of non-state actors who seem to hold the power of educational decision-making.
The pandemic has enabled states, with support from the growing private sector in education, to take complete control of schools and the teaching-learning process. Over the last six months teachers have been effectively reduced to docile followers of government diktats. By forbidding teachers to reach out to their students, even the minimal sense of agency that they had in their classrooms has been eroded. Digital learning platforms have shown how easy it is for administrators to take control over matters of curriculum design, knowledge selection and the pedagogic process. They have also indicated how effortless it is for teachers to surrender to authority. With NEP 2020 legitimising digital learning and augmenting the role of private interests, the state has effectively abdicated its constitutional duty to provide equitable quality education to all.
*Poonam Batra is Professor of Education, Central Institute of Education, University of Delhi.
(Endnotes)
(1) Government of India, Ministry of Human Resource Development, Department of School Education and Literacy, National Education Policy 2020. https://bit.ly/3oj4YZ1
(2) Government of India, Ministry of Human Resource Development, Department of School Education and Literacy, Draft National Education Policy (2019). https://bit.ly/2FQjrdw
(3) Government of India, Ministry of Human Resource Development. Vision of Teacher Education in India: Quality and Regulatory Perspective (2012), Report of the High-Powered Commission on Teacher Education Constituted by the Hon'ble Supreme Court of India
(4) This figure has reduced considerably since then as a result of declining school enrolment in state schools.
(5) Supra Note 3
(6) These include Kerala, Gujarat, Punjab and Uttarakhand. Source: Batra, P. (2016). Positioning teachers in the emerging education landscape of contemporary India. In India Infrastructure Report 2012 (pp. 257-269). Routledge India.
(7) Kundu, Protiva (2019, January 30) To improve quality of school education India must spend more on its teachers. India Spend. Retrieved February 4, 2020 from https://bit.ly/3dTSKl0
(8) Batra, P. (2020) Re-Imagining curriculum in India: charting a path beyond the pandemic. Prospects (in press).
(9) This research - part of the TESF-India Project - is examining the impact of COVID on education.
---
NEXT »
Poor Connectivity, Shattered Dreams >>
By Protiva Kundu
July September 2020