FREQUENTLY ASKED QUESTIONS
Salient Features of the New Policy Framework
The Union Cabinet of India approved the National Education Policy (NEP) on July 28, 2020 and it was unveiled by the Ministry of Education on July 30, 2020. The new policy framework replaces the 34-year-old National Policy on Education, framed in 1986. An aspirational document, NEP 2020, looks at overhauling the entire education structure,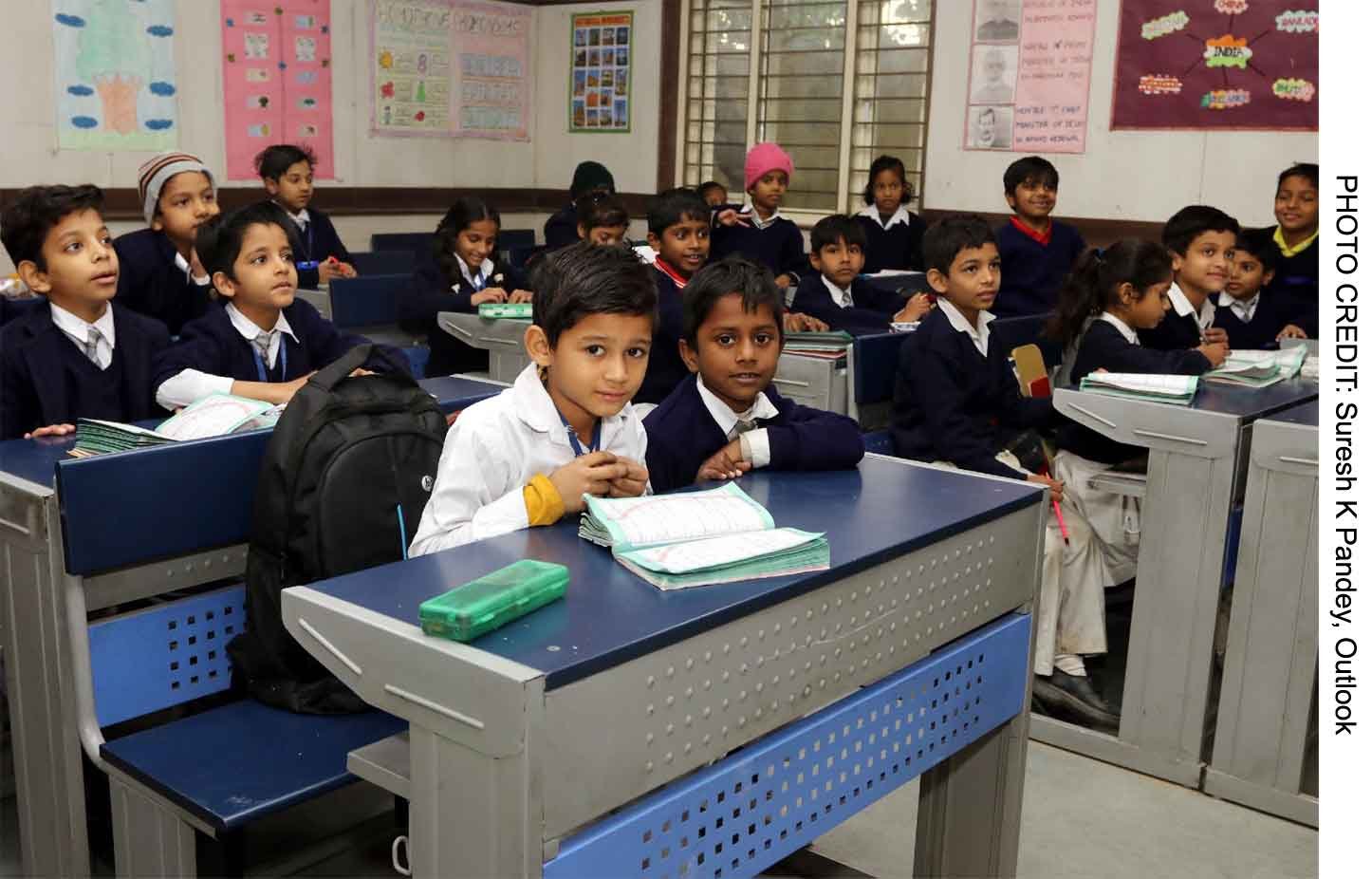 Students attending a class at a government school in Delhi's Rouse Avenue
including its regulation and governance, keeping in mind a quickly-changing employment landscape and global ecosystem.
Here is a curated list of changes laid out in the policy document
What is the changed class system?
NEP 2020 suggests a 5+3+3+4 class system, as opposed to the current 10+2. In the 5+3+3+4 design, there will be the Foundational Stage (divided into two parts --- 3 years of Anganwadi/pre-school and subsequent 2 years in primary school in Grades 1-2; together covering ages 3-8), Preparatory Stage (Grades 3-5, covering ages 8-11), Middle Stage (Grades 6-8, covering ages 11-14), and Secondary Stage (Grades 9-12 in two phases, i.e., 9 and 10 in the first and 11 and 12 in the second, covering ages 14-18).
Flexibility has been made a key theme of the new education policy. Particularly in secondary school students are flexible to choose subjects in physical education, the arts and crafts, and vocational skills.
An interesting takeaway from NEP 2020 is that in secondary school education, boundaries will not be created between 'curricular,' 'extracurricular,' or 'co-curricular.' Hard lines will also not be drawn between 'arts', 'humanities', and 'sciences,' or between 'vocational' or 'academic' streams. In addition, subjects like physical education, the arts and crafts, and vocational skills will be part of the entire school curriculum, in addition to science, humanities, and mathematics.
Students at all levels will be taught contemporary subjects, including Artificial Intelligence, Design Thinking, Environmental Education, Global Citizenship Education (GCED), etc. Activities involving coding will be introduced in Middle Stage.
Why is there a debate around languages?
NEP 2020 says that "the medium of instruction until at least Grade 5, but preferably till Grade 8 and beyond, will be the home language/mother tongue/local language/regional language." It goes on to add that thereafter, the home or local language shall continue to be taught as a language. This will be followed by both public and private schools.
Crucially, the policy offers flexibility in the three-language formula, stating that no language will be imposed on any state. States, regions, and of course the students themselves, will choose the three languages. But at least two of the three should be native Indian languages. Students will also be allowed to change one or more of the three languages they are studying in Grade 6 or 7.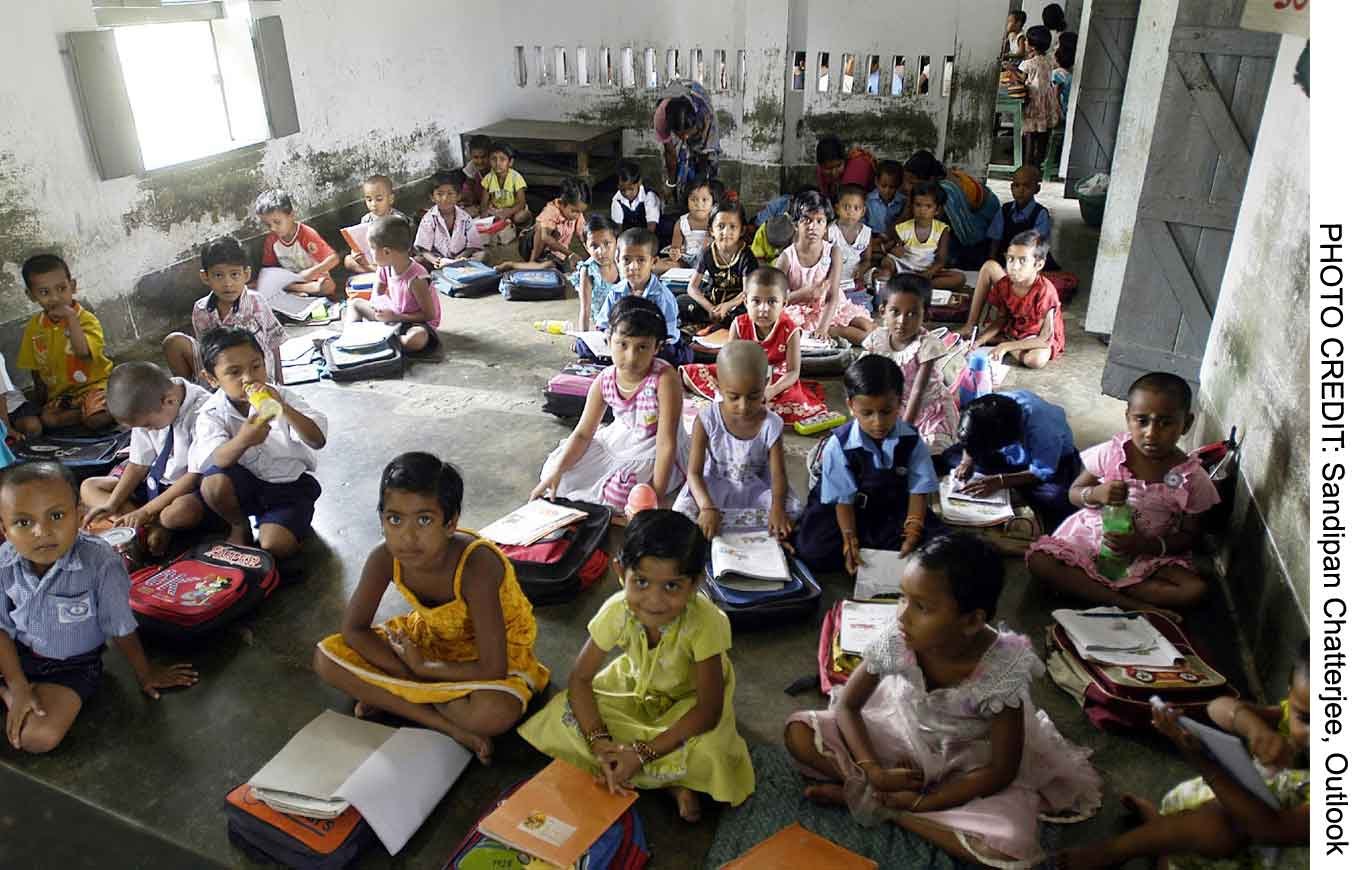 Students sitting on the floor at a primary school in West Bengal
TIn addition, an activity on 'The Languages of India,' sometime in Grades 6-8, will be held for students. High priority would be given to classical languages in addition to Sanskrit, including Tamil, Telugu, Kannada, Malayalam, Odia, Pali, Persian, and Prakrit. They will be offered as options for students in schools, possibly as online modules.
Sanskrit occupies a prominent space in the policy, and will be offered at all levels of school and higher education. The language will also be included as an option in the three-language formula.
Also, foreign languages will be offered at the secondary level, while Indian Sign Language (ISL) will be standardised across the country. The policy also says that national and state curriculum materials will be developed for students with hearing impairment.
What changes does the policy outline for the report card system?
The report card, referred to in the policy, as progress card, is a record of school-based assessment for students, communicated to parents by schools. States/UTs will be responsible for its makeover under guidance from the proposed National Assessment Centre, NCERT, and SCERTs. The progress card will include self and peer assessment, along with teacher assessment. Artificial Intelligence-based software, based on learning data and interactive questionnaires for parents, students, and teachers could be used by students to help track their growth in school, and will offer them information on their strengths, areas of interest, and on areas needing extra attention.
Will board exams be less taxing for students now?
The policy decries the coaching class system and the emphasis on memorisation encouraged by the present education system. The new policy therefore, while continuing with the board exams for Grades 10 and 12, seeks to reform the existing system of board and entrance examinations. The end goal is to do away with the parallel learning in coaching classes. Therefore, board exams will be overhauled to encourage holistic development, allowing students to choose many of the board exam subjects, based on their interests.
The policy also unequivocally stresses its intention to make the board exams 'easier.' These exams will be used to assess primarily core capacities/competencies rather than months of coaching and rote-learning.
An interesting feature of NEP 2020 is that all students will get a second chance to improve their board exam marks during any given school year. There will be one main examination and one for improvement, that students can take if they so desire.
What are the reforms in teacher training?
The policy aims to set up a large number of merit-based scholarships across the country for studying quality 4-year integrated B.Ed. programmes. "In rural areas, special merit-based scholarships will be established that also include preferential employment in their local areas upon successful completion of their B.Ed. programmes."
The policy also mentions that Teacher Eligibility Tests (TETs) will be strengthened to inculcate better test material. The TETs will also be extended to cover teachers across all stages (Foundational, Preparatory, Middle and Secondary) of school education. For subject teachers, scores of TET or National Testing Agency (NTA) in the corresponding subjects will be taken into account for recruitment.
How will university entrance exams be different?
A common entrance gateway has been proposed. NTA will conduct a common aptitude test, as well as specialised common subject exams in the sciences, humanities, languages, arts, and vocational subjects, at least twice every year.
Students will be allowed to choose their test subjects, and each university will be able to see each student's individual subject portfolio and hence forth make their admission decisions based on individual interests and talents. It will enable "most universities to use these common entrance exams - rather than having hundreds of universities each devising their own entrance exams - thereby drastically reducing the burden on students, universities and colleges, and the entire education system," according to the policy document. However, it is not mandatory. It will be left for individual universities and colleges to use NTA assessments for their admissions.
How will higher education change?
A big change brought about by the NEP 2020 is that the undergraduate degree will be of either three or four-year duration, with multiple exit options within this period, with appropriate certifications. For instance, a student can get a certificate after completing one year in a discipline or field including vocational and professional areas, or a diploma after two years of study. He/she can get a certificate for a Bachelor 's degree after a three-year programme. However, the policy adds that the four-year multidisciplinary Bachelor's programme, "shall be the preferred option since it allows the opportunity to experience the full range of holistic and multidisciplinary education in addition to a focus on the chosen major and minors as per the choices of the student." There's also provision for the 4-year programme to lead to a degree 'with Research' if the student completes a rigorous research project in their major area(s) of study as specified by the higher education institutions (HEI).
In continuation of its emphasis on multidisciplinary education, the policy is aiming to implement a new system called the Academic Bank of Credit (ABC). It would digitally store the academic credits earned from various recognised HEIs. This will enable degrees from an HEI to be awarded taking into account credits earned.
Will the regulation of higher education be transformed?
The regulatory system is also set to change, with the National Higher Education Regulatory Council (NHERC), aimed to function as a single regulator for the higher education sector, including teacher education, and excluding medical and legal education.
---
NEXT »
Grand Targets Without a Roadmap >>
By Ambarish Rai and Srijita Majumder
July September 2020